Between Highway H and Highway 100, three miles southeast of Hermann, Missouri, Rohlfing Road winds and rolls through farmland, over creeks and often under a blanket of fog or dust. Cattle graze amidst corn and soybean fields that flank the road named for a family that has farmed there for three generations.
Twins Martin and Marvin Rohlfing were born in a house halfway between the two highways, which Martin still calls home and where Marvin is his nearest neighbor, half a mile away. Farming is the only way of life they know, having quit school after eighth grade to help their father on the farm.
At the age of 68, Martin and Marvin still plant and harvest together. They hope their nephew David Rohlfing, son of their deceased brother Ralph, and his son will continue to farm and live off the land that has defined the Rohlfing family way of life for nearly a century.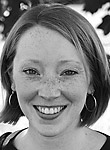 Sally Ryan
B Team
Faculty
George Olson
Dennis Dimick
The Naperville Sun
Email: sally@cmykyle.com
Tel: 773/782-8164

View Marvin & Martin