Julie Clingman is in her eighth year as the principal of St. George Catholic School in Hermann, MO where she knows all 184 students by name. Her son, Ryan, will graduate from the school next May. Until then, they ride to school together in the morning, and he enjoys a privileged relationship with "The Principal."
Balancing a day of work for Julie Clingman can mean comforting a youngster, enforcing the rules, counselling a teacher, playing pranks, and joking with Rev. Bill Debo, and checking schedules--along with solving any number of problems, large or small.
When all of her responsibilities at St. George are through Julie has time for dinner with her family.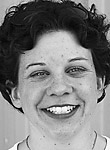 Sarah Beth Barnett
Team B
Faculty
George Olson
Dennis Dimick
Casper Star-Tribune
Email: barnettsb@aol.com
Tel: 307.232.9389

View Head and Heart of the School