People with open hearts who are willing to help the needy ones still exist. The Pastor James H. Elliot is one of them. He has directed the St. Paul United Church of Christ in Hermann, Missouri for 24 years. This year the church is celebrating its 160th anniversary and the pastor and the church members are very busy preparing for this historic event.
Among his many duties in this small and religious community, Pastor Elliot visits elder patients in Hermann Hospital, distributing faith and hope. Couples who are preparing for marriage frequently visit Pastor Elliot to receive counseling.
The church is the center of many activities including quilting bees, child care, and performing in the church choir which sings at most of the Sunday services. Sunday choir.
Pastor Elliot is an essential part of the Christian community in Hermann, Missouri. His life is fully integrated to the church. He and his wife Lila have four children and 12 grandchildren.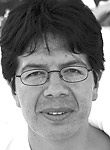 Alfredo Cardenas
Team A
Faculty
Maggie Steber
Alan Berner
El Universo
Email: acardenas2003@hotmail.com
Tel: 593-298493767

View Pastor Elliot