Ashlee "Kid" Kiderlen is a senior at Hermann High School, where she plays on the softball team. One of three captains, she has a .429 batting average that puts her fourth in her conference. Hermann high softball coach Niki Buschmann says of the team, "We basically live and die by how Ashlee plays." She has been playing softball for as long as she can remember, and her dream is to play in the Olympics. She is determined to play softball in college and she is writing letters of interest to coaches in the hopes that she will be recruited. Her family, parents, grandparents, uncles, come to all of her games - her grandmother Mimi has not missed a one - and they cheer her every move.
"Kid" describes the aspects of her personality most evident at school: confident and playful. In any group of her peers she becomes a leader. The joyful approach she takes to day-to-day life is contagious. When she is competing on the field, however, she displays the maturity, self-possession and focus that success demands. As a graduating senior, "Kid" is at a point of moving towards adulthood - and towards her dream of a future as an athlete.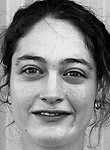 Naomi Brookner
Team B
Faculty
George Olson
Dennis Dimick
Email: naomibrookner@mac.com
Tel: 510.325.4509

View "Kid"