Past Faculty

MPW's Genesis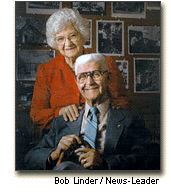 The early 1940s was a time of turmoil throughout America. World War II was calling young men and women to battlefields and cities far away. Mid-America and the world would never be the same again. One young couple on the move was Cliff and Vi Edom. Cliff was 34 when the war began, and because he had a wife and child, he was not asked to bear arms. Instead, he was drafted, so to speak, by the Missouri School of Journalism to make engravings for its student paper, the Columbia Missourian, and to teach a course in photography.

Although Cliff had taught photo workshops for weekly newspaper editors, he had no formal training in the field. He had no college education either, so, to keep his new job, during the next few years Cliff would earn a bachelor's degree while working full -time at the University.

At this same time, he and Vi also would create three of our profession's most influential and durable educational programs -- the Pictures of the Year contest, the College Photographer of the Year contest and the Missouri Photo Workshop. Edom first got the idea for the workshop from a book published in1940 by Sherwood Anderson called Home Town: The Face of America. In it were images of rural America taken by some of our nation's most dedicated photographers working for the Farm Security Administration under the direction of Roy Stryker. These photos portrayed a way of life that has become synonymous with the Missouri Photo Workshop.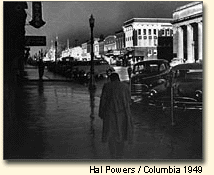 Stryker and FSA photographer Russell Lee worked closely with Edom in the creation of the Workshop and served as faculty members during its early years. The first Workshop was set in Columbia, Missouri. It was an unpretentious, modest effort to provide a group of twenty-three photographers access to the life of this small Missouri college town for the purpose of honing and developing their photojournalistic skills.
Five staff members were drawn from the top echelon of photojournalism. Stryker led the staff that included two photographers, Rus Arnold and Harold Corsini, and two top picture editors, one from a newspaper and one from a magazine: Stan Kalish of the Milwaukee Journal and John Morris of the Ladies' Home Journal.
Since it began, the workshop has immersed itself in these small towns teaching journalists about universal themes of human nature and cultural interdependence through documentary photography. Literally thousands have shared this experience. Many have gone on to raise journalistic standards in publications throughout the world. Some have returned as Workshop faculty members to enthuse new generations about the traditions that inspired Cliff and Vi Edom.