Welcome to the 59th Missouri Photo Workshop | MPW
.

59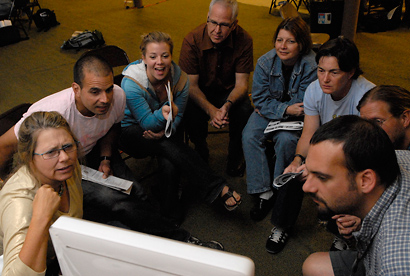 PHOTO BY ALEX SUTHERLAND / MPW.59
MPW
.

59 | Chillicothe, Mo

A shopping and entertainment center for northcentral Missouri, Chillicothe touts itself as the "Home of Sliced Bread."

It was the opportunity to learn to capture better 'slices' of time, not bread, that brought 40 photographers, a dozen top flight photojournalists, editors and educators and a crew of 18 MU students, during the last week of September 2007. They traveled across America and from Canada, Mexico, Puerto Rico, Romania, Russia, Singapore, and the United Kingdom, just as their predecessors who visited Chillicothe in 1963, to hone their story-telling skills while exploring small town America.

Through their eyes and effort, they bring viewers into the workings of local institutions like a family run meat locker and a local muffler shop that doubles as a place where longtime friends can have a beer and catch up on local news. They introduce us to an Amish youth and a young man hardened by tough love and stints in jail. They document the birth of Chillicothe's newest resident and an Episcopal priest who helps people prepare for the end of their lives. Through their photographs they try to chart a course to the heart of this community of 9,000.

The week culminated with a public exhibit of over 400 images at the Livingston County Library, where photographers and subjects viewed the results of their collaboration and neighbors learned a little more about each other. A sense of history was added with the display of the exhibit from 1963, and current residents scanned those photos hoping to find images of friends, neighbors, relatives and maybe even themselves.

The people of Chillicothe opened their homes and their hearts to the participants of MPW59. There are not enough words to thank them for this gift; we can only hope the photographs made during the week show our gratitude.

Photographs from the previous workshops are available available online through the Year-by-Year page.